Types of Providers
Content From:
CDC's HIV Treatment Works
Updated: May 21, 2018
4 min read
Topics
Who Should Be on My Health Care Team?
Finding a health care team that is knowledgeable about HIV care is an important step in managing your care and treatment.  If you are able to choose your provider, you should look for someone who has a great deal of experience treating HIV. This matters because the more HIV experience your provider has, the more familiar he or she will be with the full range of treatment options that exist today, as well as the unique issues that can come up in HIV care over time.
Who is on your HIV health care team will depend on your health care needs and the way that  the health care system, clinic, or office you will get your care from is set up. It should also be based on your preferences and what will work best for you. Don't get hung up on finding the perfect provider the first week after you are diagnosed. The most important thing you can do now for your health is to meet with an HIV provider who can order your first lab tests and start HIV treatment as soon as possible. Don't let the search for the perfect doctor slow you down on this. You can change doctors later if you need to.
Your HIV health care provider should lead your health care team. That person will help you determine which HIV medicines are best for you, prescribe antiretroviral therapy (ART), monitor your progress, and partner with you in managing your health. He or she can also help put you in touch with other types of providers who can address your needs. Your primary HIV health care provider may be a doctor of medicine (MD) or doctor of osteopathic medicine (DO), nurse practitioner (NP), or a physician assistant (PA). Some women may prefer to see an OB-GYN provider who has expertise in HIV/AIDS. On the whole, the patients of providers with more experience in HIV care tend to do better than those who see a provider who only has limited HIV care experience. 
In addition to your HIV health care provider, your health care team may include other health care providers, allied health care professionals, and social service providers who are experts in taking care of people living with HIV.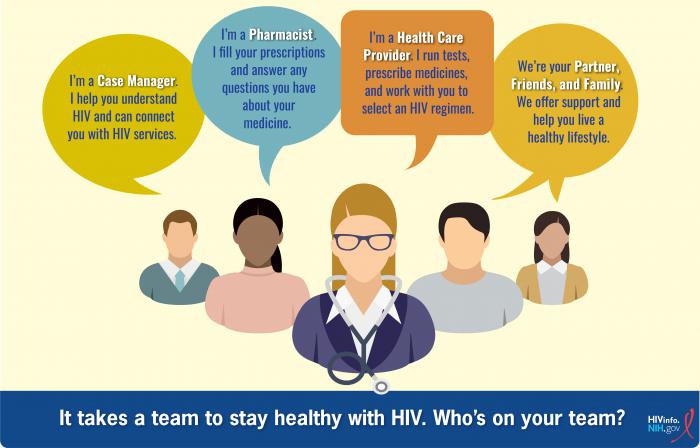 The types of professionals who may be involved in your HIV care include:
Health care providers
Medical doctors (MD or DO): Health care professionals who are licensed to practice medicine.
Nurse practitioners (NP): Registered nurses, with specialized graduate education, who can diagnose and treat illnesses independently, or as part of a health care team.
Physician assistants (PA): Health care professionals who are trained to examine patients, diagnose injuries and illnesses, and provide treatment to patients under the supervision of physicians and surgeons.
Allied health care professionals:
Nurses: Health care professionals who provide and coordinate patient care as part of a health care team.
Mental health providers: Professionals, such as a counselor, psychologist, or psychiatrist, who provide mental health care in the form of counselling or other types of therapy.
Pharmacists: Health care professionals who provide prescription medicines to patients and offer expertise in the safe use of prescriptions. Pharmacists may also provide advice on how to lead a healthy life; conduct health and wellness screenings; provide immunizations; and oversee medicines given to patients.
Nutritionists/dietitians: Experts in food and nutrition who advise people on what to eat in order to lead a healthy lifestyle or achieve a specific health-related goal.
Dentists: Health care professionals who diagnose and treat problems with a person's teeth, gums, and related parts of the mouth. Dentists also provide advice and instruction on taking care of teeth and gums and on diet choices that affect oral health.
Social service providers:
Social workers: Professionals who help people solve and cope with problems in their everyday lives.
Case managers: Professionals who help people find the support and services they need, develop a services plan, and follow up to make sure that services are provided.
Substance use/abuse specialists: Counselors who provide advice, treatment, and support to people who have problems with substance use.
Patient navigators: There are a number of different types of navigators who are trained and culturally sensitive workers who provide support and guidance to people by helping them "navigate" through the health care system. For example, navigators could be health care workers, social workers, those who work for community-based organizations, or peers.